Hurry, hurry home love,
Hurry back to Rotorua,
To the mountains and the valley,
Hurry home to me.
- Pokarekare Ana, classic Maori folksong.
On the day we left Auckland, our friendly Korean host checked under the hood for us, gave us some pointers about speed limits (100kmh) and sent us off with an assured smile. Any nervousness of being stranded in sheep-country evaporated once we hit the road. On the road, all scenic spots and worthy stopovers are clearly signboarded in brown -- and with two kids in tow, the signs for public toilets were a god-send (mostly clean, free and with paper!)
NZ is a very tourist-friendly country. Even in the smallest of towns we just needed to find the big, usually green, i signboard (i = information) for the i centres that had very helpful tourist guides ready to answer your dumbest of questions. In the more popular tourist towns, though, the queues of tourists asking dumb questions, were pretty long. Sometimes we'd just pop in, grab a brochure, and stop the nearest local outside if we couldn't figure out where we were or what to do.
Hamilton, was an easy 120 km drive south from Auckland. We stopped by to say hello to Dr Norman Simms, who Julian knew only through a single email exchange. He promptly invited us for dinner! We had our first home-cooked meal served up by his gracious wife, Martha. Martha spoiled the kids with dollops of ice-cream and plied them with crayons and drawing paper and paua shells dug up from the garden to take along the trip, while Norman read them stories and amused us with his brand of sarcastic humour.
Norman & Martha are originally from New York and came to New Zealand more than 30 years ago. He teaches at Waikato University. It was a night filled with laughter, and great ideas of what to do for rest of our trip, and when we left, we ended up hugging as if we'd known them for years.
Hamilton is famous for its 58-acre themed gardens with its incredibly luxuriant foliage. Jordan and Andrea got a kick out of chasing white doves and waddling ducks and posing with Egyptian statues and Chinese pavilions.
Beware: Naked Man In Hot Pool
Our next stop was Rotorua, without a doubt, the most touristy town in the North Island. In fact, at any given month, a town's population of 69,000 residents may swell to 120,000, with tourists combined. Located on a volcanic plateau, steam arises from parks, gardens and along the streets, and you are assailed by the smell of sulphur everywhere.

The town is 30 percent Maori, and at Whakarewarewa, a living thermal village, we watched our first haka dance performance (11.15am and 2pm daily), complete with the warrior men's tongue-wagging and gentle swaying of plump womenfolk. Some of the skinnier men came out shivering at first -- it was chilly -- but warmed up after all the chest-thumping.
Later, at a row of steaming hot pools we spotted a local man and his small son, totally in the buff, immersed in the boiling water in what must surely have been for hours. We braved dipping our weary feet in one of the pools and it turned out to be oh-so-soothing - once you got past the heat.
At the Rainbow Farm, in the darkness we had our first glimpse of the kiwi bird, the flightless, nocturnal national bird. Depressing fact: there are about 75,000 kiwi left and the numbers are declining by nearly 6% a year. By 2006 there may be only 50,000 left.
Then came the sheep show, an NZ staple. A rollicking, onstage, life-on-a-farm show that speeds you through dog-herding and shearing sheep to milking cows and making cream and butter. After that, the kids were desperate for a horse-ride and we found a place nearby. Andrea had no qualms getting on the pony, even though it was her first-ever ride, and happily trotted off with her guide. Jordan was at first terrified but hopped on once he realised that little sister had gone off a good distance.
Falls Flowed, Worms Glowed and Craters Billowed
South of Rotorua is Taupo, another tourist-packed laketown, but somehow quainter. One of the first things you spot entering the town is the McDonald's playground that opens into a real plane.
When searching for accommodation, one thing we quickly learned was, never believe the signs that say "Starting at $59". That usually means the room's a no-frills, no-loo, single-bedded and ++ for sheets & duvet, and is probably taken, if it exists at all.
We stayed at Sunset Lodge – another old bungalow converted into a backpackers' that was off the busier lakefront area. The place was being painted by a handyman, who with his bald pate and dark glasses was a dead ringer for David Letterman's band-leader. The lady behind the counter was another friendly Maori who instantly took to the kids and was chatty with information. She spoke with affection about a Malaysian woman from Ipoh (!) who was a frequent long-staying regular there.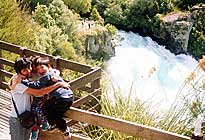 Just north of Taupo is Huka Falls, a turquoise torrent that is more horizontal than vertical but no less spectacular for the thundering sounds as 300,000 litres of water per second are pumped by the Waikato river through a narrow gorge. A chance meeting with a gardener, led us further uphill for a better viewpoint of the falls.
We attempted a trek, along the Waikato in search of hot mud pools but had to abandon it as twilight was setting in and we had run out of drinking water. Of course, typically if a trek was labelled one-hour return it would take twice as long with the kids. But they still continually amazed us with their resilience – except for the occasional moan or two to be carried.
We had heard so much about the Waitomo Glow-worm Caves, we decided to cut across the island on a long and windy drive to get there. The caverns stretch for 50-kms, part of a unique karst limestone landscape sculpted by water. A guided walking tour, far too scientific and boring for the children, was climaxed with a boat-ride in pitch darkness, and total silence, under an amazing cathedral of dotted luminiscence.
Unlike the fireflies in Kampung Kuantan in Kuala Selangor, these worms did not flicker, and seemed quite static by comparison. But the ride was still enchanting, and the kids even managed to adhere to the boat guide's shh-shh-ing throughout.
Taupo also hosts the Craters of the Moon, one of the still-free attractions run by volunteers. The track takes you around an outworldly landscape with steaming holes and craters filled with gurgling, hot mud. As recent as February, 2001, there were some spectacular eruptions that covered the wooden trail with five centimetres of mud! Looking down some of those billowing craters was really scary, knowing they might blow anytime.