"A lot of movies you see, people wouldn't have a clue where they were made...everyone knows that this is made in New Zealand. I think it's going to see a lot more visitors come to our country ..."
- NZ Prime Minister Helen Clark at "Lord of the Rings" premiere in Wellington, Dec 19, 2001
From Taupo, we headed eastward to Napier, a coastal town ravaged by a 7.8 Richter scale earthquake in 1931, then completely rebuilt in Art Deco style. Some buildings were so quaint it reminded us of fancy birthday cakes.
We stayed at Stables Lodge, which had rooms fashioned like horse stables, and painted with horse motifs. The kids loved it. Right behind the hostel was Marineland, where we caught the dolphin and seals show, and had close-up views at feeding time of the performers as well as blue penguins, sea lions, otters and gannets.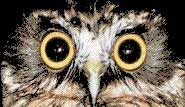 From Napier we decided to shoot for Wellington, a 323-km journey that was the longest stretch we did in a day. To break-journey, we diverted to Owlcatraz, near Shannon. Along with schoolkids on a field trip, we were taken into the dark barn-like home of native NZ owls and watched as they swooped eeriely around us. The residents were given amusing names like Owl Capone, Owle MacPherson, Owlvis Presley, Owley McBeal, and of course Owlivia Newton-John. We swear the lady at the counter had an owl-like look herself, and we wouldn't want to be caught dead in dark places with her.
Not So Hot About Wellington
Wellington was chilly and rainy and horrid for the cold. Coming to a big city again with its one-way roads and busy sidewalks was dreadful after the quaintness of the small towns we had just passed.
The no-frills Rowena's Lodge we stayed in was a labyrinth of rooms with just too many lodgers, We had bunk beds, which sunk from our weight, and were so badly placed that it was uncomfortable to even move around the heater-less room. In big cities, like Auckland and Wellington, we realized accommodation was dingier for the same average price of NZ$50-70 we were paying elsewhere. Hotels were just too expensive, so we had to make do.
The one great consolation was meeting an elderly French couple in the dining hall, who had just returned from circumnavigating South Island and gave us invaluable advice for our journey across.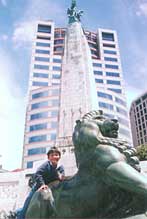 In Wellington, when the weather permitted we visited Te Papa Museum, a must-see for any NZ visitor. If you never see another museum, go to this one. Entrance was free, and the exhibits superlative, with so many interactive things to do especially for kids. We must have gone there thrice during our stay, and still hadn't seen it all. Suggestion: park at the New World supermarket opposite, where it's free as long as you purchase something.
The museum had a special Body Odyssey exhibit we had to pay extra for, and Andrea and Jordan had fun crawling through a giant mouth and esophagus and "fighting" with three-feet high bacteria.
We did all the other touristy things at Wellington as well, rode the cable car up Kelburn, roamed the bloom-filled Wellington Botanic Garden, walked the expansive zoo, took a guided tour of parliament, visited Old St Paul's Church with its all-timber interior and hung out at the wharfs.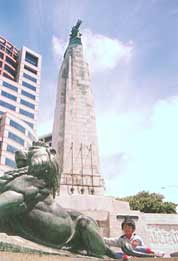 Curry, Curry, Curry, Home, Love
For food, Anita was the only one in a crowded kitchen of kwailos cooking curry and upturning noses in the entire dining hall of Rowena's. We had ten packets of Brahim's, a live-saver of cooking sauces to spice up our meals, and of course Maggi Mee from home for that quick meal when Andrea was pining for noodles. We found Maggi Mee at the supermarkets here but they cost a NZ$1 a packet and had odd flavours like Cheese, and Barbecue. Yukk.
At takeaways, we discovered that satay seems to be a part of the Kiwi vocabulary. Once we were amused to spot the Sungai Wang Malaysian Café, which is among 15 or so Malaysian restaurants in Wellington, none of which we bothered trying. But we did on a whim have a pizza named after Klang town from a local pizzeria. It wasn't bad.
With the uncertain weather and the isolation of South Island, we decided to shop for some jackets, windcheaters, thicker clothes and new shoes for the children.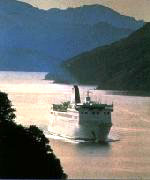 We were eager to hop over to the South Island. There are only two ways to get across Wellington, either by the Interislander ferry or the faster Lynx ferry. Both are massive cruise boats with the lower decks for cars and the upper decks for cafes, restaurants, beer bars. There was comfy seating everywhere and great window views. The Interislander even had a play area, which Jordan and Andrea immediately took to, along with dozens of other like-minded, adrenalin-fueled kids. We realized we weren't alone with the knowledge that parenting toddlers is a universal, full-contact sport in which we always play referee.
Picton, on the other side, of the three-hour cruise, is about the smallest, quaintest town you could live in, with its curio shops and roadside cafes with such names as The Dog & Frog and Toot & Whistle. We chose to stay at Bell Bird Motel, a three-room self-contained unit, that was truly homely, and a welcomed respite from the wretched Rowena's.