"It is not the mountain we conquer but ourselves."Sir Edmund Hillary
We were headed home.
We took the fast Lynx back across to Wellington, stayed only a night to recover, before journeying up to Wanganui. Along the way we stopped at Foxton, a tiny town that was building a windmill as a tourist attraction, and Bulls, another town whose main attraction was the lavender shop.
Wanganui turned out to be a pleasant diversion, with its huge flowering baskets decorating the buildings on main street, great parks to explore and interesting museums. We walked into the 216-feet tunnel under Durie Hill, with the kids screaming and laughing from the echoes, then boarded an ancient elevator that led us up to a War Memorial Tower. We clambered up this tower made of fossilized shellrock, and had a panoramic view of the town, Wanganui river and nearby mountains.
Kowhai Park was a novelty with a variety of cartoon and storybook characters like Fred Flintstone and The Three Bears and animal-themed slides and swings. Why can't they build parks like these back home, we wondered?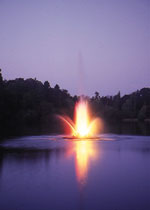 Later that night, we explored Victoria Park, which had a fountain that constantly changed colours and trees that were lit up. A parrot made us jump when he said "Hello!" from the darkness, and Jordan and Andrea had fun waking up the ducks asleep by the lake. Wandering around we spotted a decorated Christmas tree in the window of someone's house and felt nostalgic for home.
In town, we looked for Maori designed clothings for our children. When we finally settled on a dress for Andrea and shirt for Jordan, we asked the counter lady where they were printed and she promptly replied: "Malaysia!"
Off we were to Tongariro National Park, famous for the Tongariro Crossing, reputedly one of the best one-day hikes in the world. We weren't planning to do it of course, and it was rainy when we got there, but we did attempt a two-hour hike to Taranaki Falls.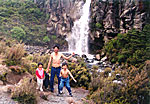 The walk ranged from barren scrubland to rainforest and took us four hours, but the kids managed with little complaint. We stopped to dip our feet at a cool river and when we finally reached the falls, Jordan and Julian stripped and did the Haka dance in triumph.
On the last day, the chair-lifts up Mount Ruapehu, which had been closed in the rainy days before, finally re-opened. We climbed up the chilly mountain and got a chance to play with snow again at the top!
In the last leg of our drive we stopped by Hamilton to say hello to the Simms before heading back to Auckland to catch our flight home. All in all we had traversed more than 4,000 km !
We never spent more than three days at one place, never lingered long enough to set roots or grow moss. But everyday etched indelible memories of a great time in our minds and of friendly faces in our hearts. New Zealand is all they say it is, folks, and then some.
The 40-day journey was, in a sense, a return to our inner ancestral nomad. A yearning for wide, open spaces, and for all things natural, and wild and untamed. It was the first real time we had actually endured a lasting experience together as a family, a bonded unit -- something a little more endearing than a day at the mall.
Our advice to future travellers: Life is too short. Forget those packaged holidays. Explore and discover places in your own time, and on your steam. Take the plunge. Dive in. Just go!