"All that is gold does not glitter,
Not all those who wander are lost"
- J. R. R. Tolkien in "Lord of the Rings"
There is only one true and guaranteed way to plan a successful holiday. Just get up and go!
Anyone who lives by precise schedules and dates is setting him/herself up for disappointment. For what possible pleasure can be derived from travelling with foreknowledge? Better to just go and be damned. Or like us, get really lucky.
Our trip to New Zealand was a spur of the moment thing. Sept 11 and the antics of a certain pretzel-challenged president jarred us into a reality. That reality, hard as it was to swallow, was that Man is an incurable, warring animal.
We needed to get away. As far away as possible. New Zealand was our choice by simple elimination. If World War III broke out, we figured it would be the last target. Besides, in a worst-case scenario, we could probably hide out among the sheep.
Another good reason was that we didn't know anyone there, hence, we were forced to interact with the locals and other lost travellers, like us, for advice. It would be a great adventure. Unshackled from the routines, the daily grind. Not knowing where would sleep or eat or who we would meet. No jams, no PC, no handphone, no nothing.
Pass On MAS
We booked Singapore Airlines because it was the cheapest. Shitty MAS apparently offers great rates to everyone in the world, except Malaysians flying out of their own country. We weren't planning to be patriotic.
We took off on November 13 – on our daughter Andrea's third birthday. Little did she realize the enormity of this year's gift. Considering it was the kids first long-haul plane ride, Andrea and Jordan, our four-year-old son, fared pretty well. Of course, they were plied with Kid's Meals, and snacks and games. It is true everything they say about the attentive Singapore Girls.
After 10 hours on a plane, mostly over Australia, we finally landed safely -- and unhijacked -- in Auckland. In the taxi to the city, we watched in bewilderment as a few fitness nuts were jogging in the heat of the midday sun on a weekday. New Zealand, we were told, is a sports-mad country.
Our home for the next three days was called Georgia Parkside Backpackers, a massive bungalow converted into cheap lodging. A post-colonial relic it featured creaky staircases, ancient ovens and heaters and huge pull-down wooden shutters, instead of windows. It was run by a Korean, who, along with some other guests, were immensely helpful on how we should tackle our four-week sojourn (later stretched to six weeks ) in New Zealand. "South Island better. Three weeks South Island. One week North Island," was the learned advice of my Korean host in his halting English.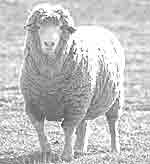 Pause for quick geog lesson: New Zealand comprises two major islands, North and South, and is roughly the size of United Kingdom and the shape of Japan. Population: 3.8 million people and 47 million sheep!
Auckland turned out to be a really BIG city. It is the lifeblood of business and economy in NZ with almost a third of the population living and working here. Wary of cities, we were itchy to get out, but chose to stay to get a "feel" of Kiwi-life.
One of the biggest attractions in Auckland is Kelly Tarlton's Antarctic Encounter and Underwater World -- a worthy visit if only to see the penguins. They popped us in a tiny windowed vehicle called a snow-cat and wheeled us around an artificial ice deck where King Penguins stood around lounging under the artificial light. What a thrill to see penguins in real-life for the first time! Even in such fake, no-cameras-please conditions.

Later, a walkalator took us on a circuit of the tunnel aquarium where we got a scuba-diver's view of stingrays gliding overhead and moray eels lurking among the coral. The kids even got a chance to stick their hands in an icky touch-pool.
Money For Nothing, And The Kids For Free
In Auckland, we were to discover why bringing along the kids at this age proved to be so timely and a real cost-saver. The kids were both under five years of age which translated to FREE entry for various major and minor attractions in NZ including public transport, museums and later, boat cruises.
It was also true what they say, you can never get lost in New Zealand. The hostel manager's office was typical of others we were to encounter. It was stacked wall-high with complimentary foldable brochures, glossy pamphlets, sightseeing maps and hotel guides of every conceivable destination in the country.
The never-get-lost theory was reiterated on a public bus in Auckland. We were quizzing the bus-driver about whether the bus would pass Stanley Street and he was clueless. A Maori lady passenger spoke up,"You know it Joe (she knew his name!). Stanley Street is at the corner of…" That typified the Kiwi-styled helpfulness that we would encounter over and over again from complete strangers.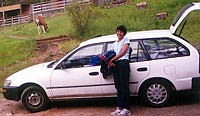 At the A2B car rental, we decided on a seven-year-old white Toyota Corolla station-wagon for the price of NZ$29 a day. You can get smaller vehicles of NZ$25/day. Campervans are pricier and although there was an established network of holiday camp sites, we were against being tied down to the bulkier vehicle at our destinations. We were also warned about NZ being strict about car seats for the kids and got a decent belted one for Andrea, and a high booster chair for Jordan, both thrown in for free.