"We live at the edge of the world, so we live on the edge. Kiwis will always sacrifice money and security for adventure and challenge..."
Lucy Lawless, Xena: Warrior Princess.
Trains, Planes & Cable Cars
One of the great things about New Zealand is never being far away from a fun activity for the kids whether it be a park, a zoo, a museum, a pool or even a castle. Many of the places we stayed even had a trampoline or swings out back, and of course board games in the common halls.
Outside Greymouth, on the west coast, when things were rainy and dreary we found Shantytown, a pseudo-cowboy town that is made for kiddy fun. We rode a smoking, coal-fired steam train and wandered around taking snaps among the antiques from the gold-panning era and replicas of the olden days' sawmill, saloon, jail, church, hospital, printing press, firestation and livery stables - with real horses.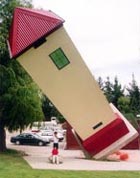 Just outside Wanaka is Stuart Landsborough's Puzzling World, a theme park centred around boggling the mind. Inclined chairs on rails went up instead of down. In one room were made to look like dwarves or giants depending which corner we stood. Out back was a huge wooden maze in which we lost the kids and spent an hour getting out -- only by cheating. The café and play area had an assortment of puzzles and games to figure out, while outside a leaning tower stood at a preposterous angle.
Wanaka also had the New Zealand Fighter Pilots or Warbirds Museum that had a number of restored classic aircraft and memorabilia from World War II. Note: NZ recently scrapped the combat arm of its airforce. The country's lawmakers believe NZ is so isolated, it doesn't even need the big-ticket expense to maintain military aircover.
Inside, we were surprised to find a flight simulation area with networked PCs sponsored by Compaq and all four of us had a go at some aerial combat. One section featured women pilots who had played a central part in war efforts. This is a great place to go, if only to remind you of boyhood Airfix days.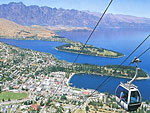 In Queenstown, we took the Skyline Gondola, a cable car ride that takes you to Bob's Peak for a grand view of the city. From there we took another chairlift ride to the top where there was a luge track. The four of us donned helmets, got a quick run through, then made like the Jamaican bobsled team.
We only realized halfway that the track had various bends without fencing -- yikes -- as the luge plunged downhill in a heart-stopping panoramic blur. The kids wanted to go again but we adults chickened out. On the cable car ride down we were stunned to see sheep grazing by the high slopes – hundreds of meters above sea level.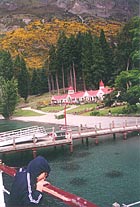 Also in Queenstown, after the thrill and spills of the jetboat ride, we boarded the TSS Earnslaw, for a completely opposite leisurely cruise on a vintage steamship. Jordan and Andrea got to wander around the innards of the ship and watch the stokers fuel the fireboxes, while a pianist on the deck tinkled on the piano to the crooning of some of the older passengers.
We alighted at the Walter Peak farm, and were served high tea with lots of cake and scones at a 19th century house. The kids got to hand-feed deer, view another sheep show at the wool-shed, and chase ducks along the waters.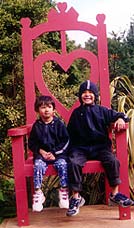 On the Otago Peninsula, we explored Larnach Castle, originally built in 1871 and fully restored to its former glory complete with Venetian glass panels, Italian marble fireplaces and intricately carved wood-panelling. We wandered around the bedrooms filled with Victorian antiques, clambered up the tower and strolled outside on the plush gardens and wondered how did those land-grabbing British get so darned rich?
At one point, Andrea asked: "Where's Lord Farquaad?", the mean character from Shrek.
Near Greymouth, we raced up a winding, windswept, rocky shore-lined road to see the famous Punakaiki Blowholes. No not those things on top of whales -- but gushing sprays of water that apparently shoot out spectacularly from among the rocks at high tide.
Unfortunately the tide receded by the time we got there, but the rocks themselves were unusual. They looked more like broken, grey chunks of layered Indonesian pandan-cake rather than stacked pancakes.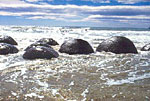 About 40 kms south of Oamaru, we headed for the beach in search of the famous Moeraki Boulders. This strange perfectly circular boulders just lie there half buried in sand as if some giant kid had left his marbles on the beach all those millions of years ago. Apparently some of the smaller ones were carted away by souvenir-hunters.

At Gore, a town - which is coincidentally right next to a town called Clinton - on what is now called the Presidential Highway, we stopped by a farm turned into a strange mini-zoo.
The owner gave us stacks of old bread and we wondered why. The reply: "There are some real hungry pigs back there." As the kids hand-fed birds and rabbits, we were followed throughout by four chihuahuas snapping at our heels, and finally came upon two of the ugliest, filthiest pigs you ever did see. They were so hungry that they got up on their hind legs and snorted over the fence. We threw the bread as far back as we could in their muddy enclosure and ran for our lives.